Competitions.Archi in collaboration with winners of architecture competitions launched in previous years prepared Project Boards Template Pack. It is a set of 20 free panels templates of awarded projects in PhotoShop and InDesign formats. Here you can find 20 Inspirations for your presentation board, which are easy to transform and edit. They grabbed attention of the jury panels once, so they will do it again, for sure!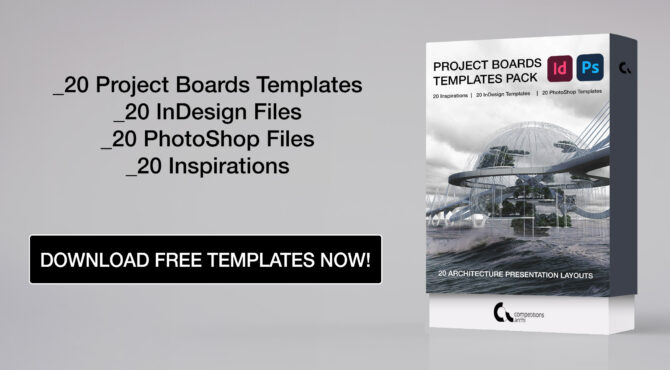 It is very important to have stand-out architecture boards during your final presentations at the universitiy as well as while submitting your competitions entries. Competitions.Archi realized that composing the representation boards is sometimes very demanding and is trying to help all students by offering free inspirations for their designs. Project Boards Template Pack is a wide range of presentation boards layouts, which look extraordinary and will help you to achieve the brilliant final result.
What is inside?
There are 20 layout examples inside the Project Boards Template Pack. They were prepared on the base of the best competitions entries and now available as editable  20 Photoshop and 20 InDesign files completely free. There are 10 landscape and 10 portrait layouts as well. Every template can be adjust to your design. Nevertheless, if you need inspiration, there is always an example how final presentation board may look like, which can be found in Tables of Contents. There are also short instructions how effectively use .psd and .indd files and videos showing how the templates can be transformed into a recognizable representation boards, by using drag-and-drop tools and smart objects. All files are prepared to be used very intuitive even for the beginners in graphics software.
Competitions.Archi hopes that Project Board Template Pack will get you inspired and encourage to face the architecture competitions in the future! Click on the banner below to download your own set!